New President and Officers elected at
Christmas party in December!
We are happy to announce Charity Daan as our new president! She and the other newly elected officers will soon be sworn in.
Thanks to all who made the Christmas Party a huge success!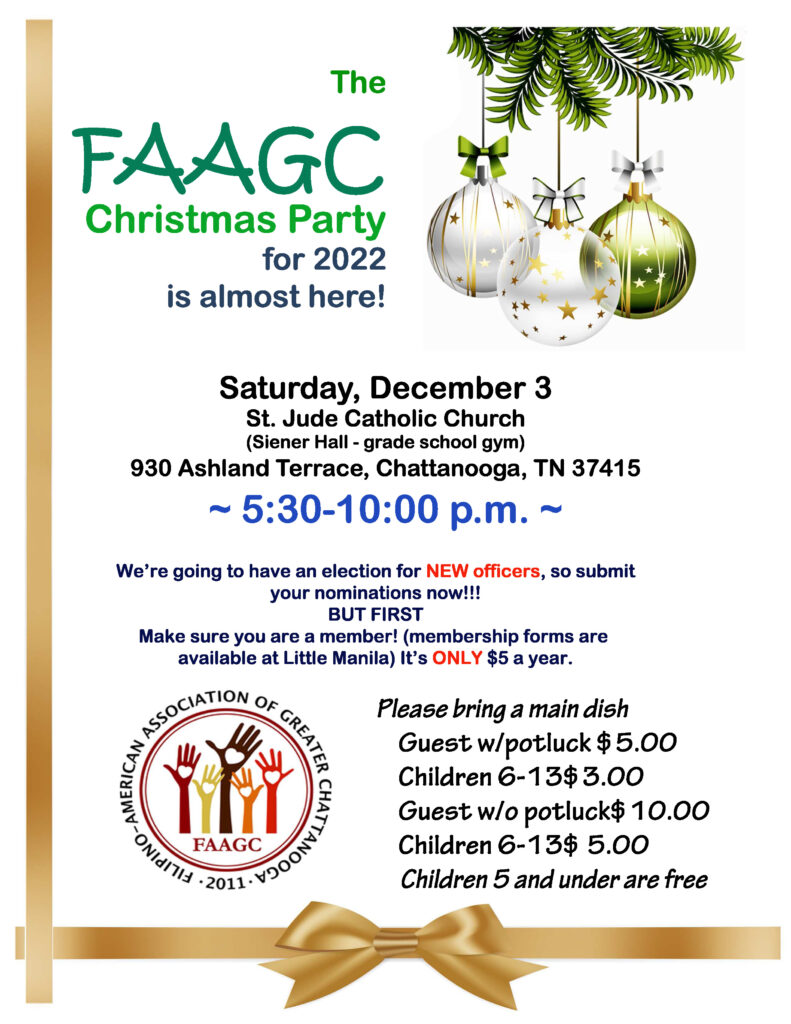 ——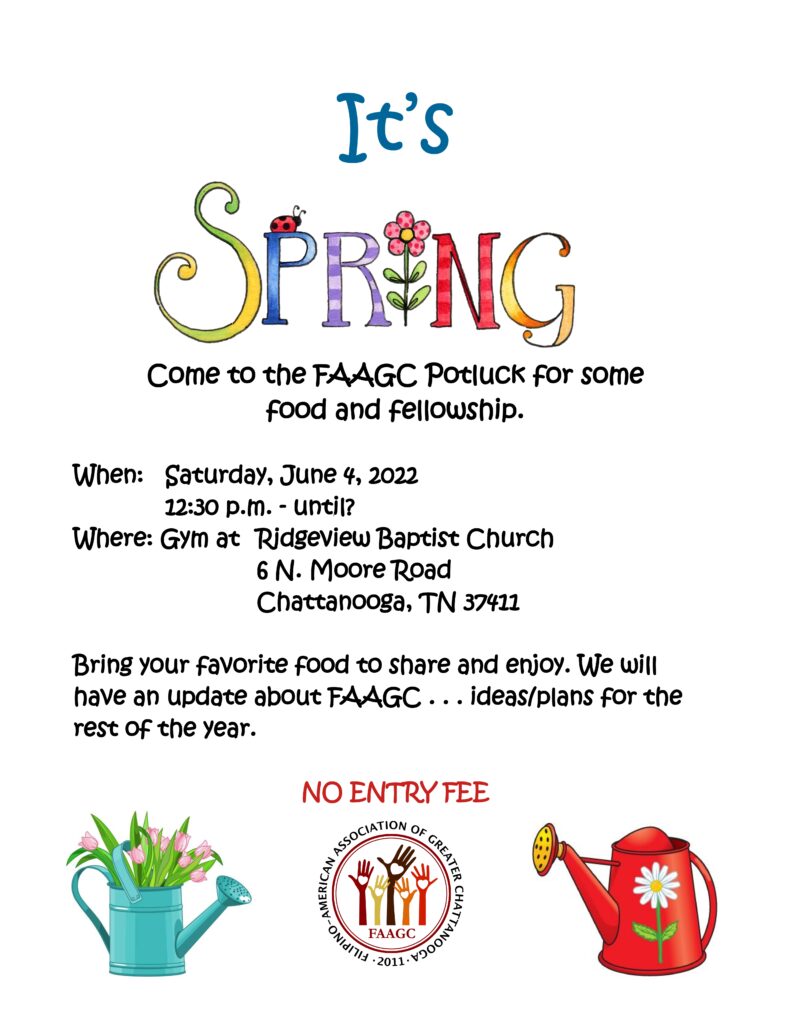 September 6-8, 2019 Culture Camp
The 2019 FAAGC Culture Camp is coming soon. This will be a great weekend for our kids to lean more about Filipino culture. We are still going to be at Harrison Bay State Park, but this year we will be in the Group Camp, which has 24 cabins which will be on a first come, first served basis when checking in at the camp. We have a large dining hall and kitchen available as well.
The camp is being held Sept. 6, 7, and 8. Pastor Rex Bolis, from the International Community Baptist Church, will be having Sunday service at the camp. We have some pricing changes this year, so be sure to download the Registration form and the Liability Release and Parental Consent form to fill out and return to us. They can be mailed to our P.O. Box or dropped off at the Little Manila Oriental Store.
We are excited about the new location, as the dining hall will still give us plenty of space if it rains.
https://faagc.com/wp-content/uploads/2019/08/FAAGC-2019-Culture-Camp-Waiver-2.pdf
https://faagc.com/wp-content/uploads/2019/08/2019-FAAGC-Summer-Culture-Camp-Registration-3.pdf
August 4, 2019 – Summer Picnic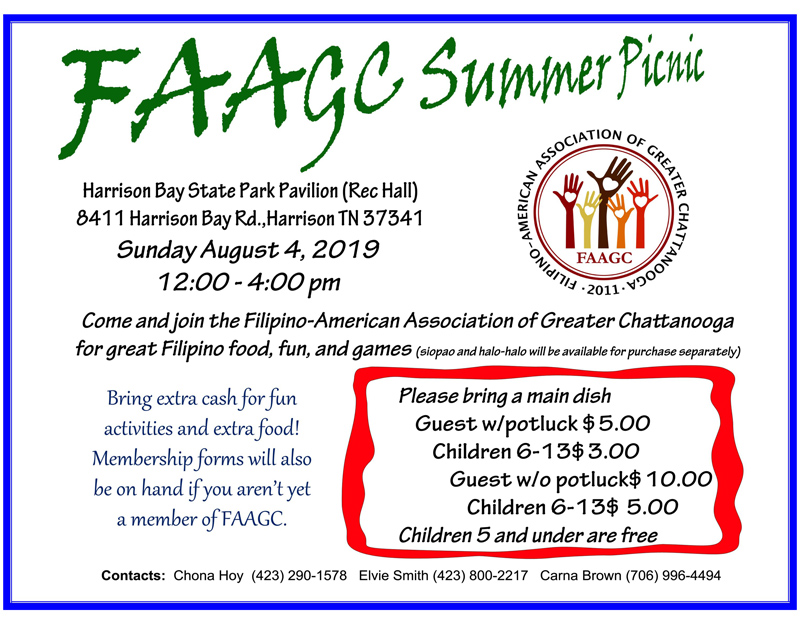 ---
FAAGC Supporting Antipangol Elementary School in Pangasinan
In April, the FAAGC Board voted to help Antipangol Elementary School, a small school of approximately 300 children in San Carlos City, Pangasinan, Philippines. We have donation boxes to collect school supplies, storybooks, textbooks, paper, pens and pencils, crayons, backpacks, etc. and have them placed at different locations. We have already received some articles to send, including dictionaries, small encyclopedia sets, and so on. Please check your shelves and boxes hidden away in your closets for things that could be of use. We are wanting to have enough to be able to ship a box in October. Our Facebook page has locations listed where items may be dropped off for pickup.
February 16, 2019 – Valentine's Day Party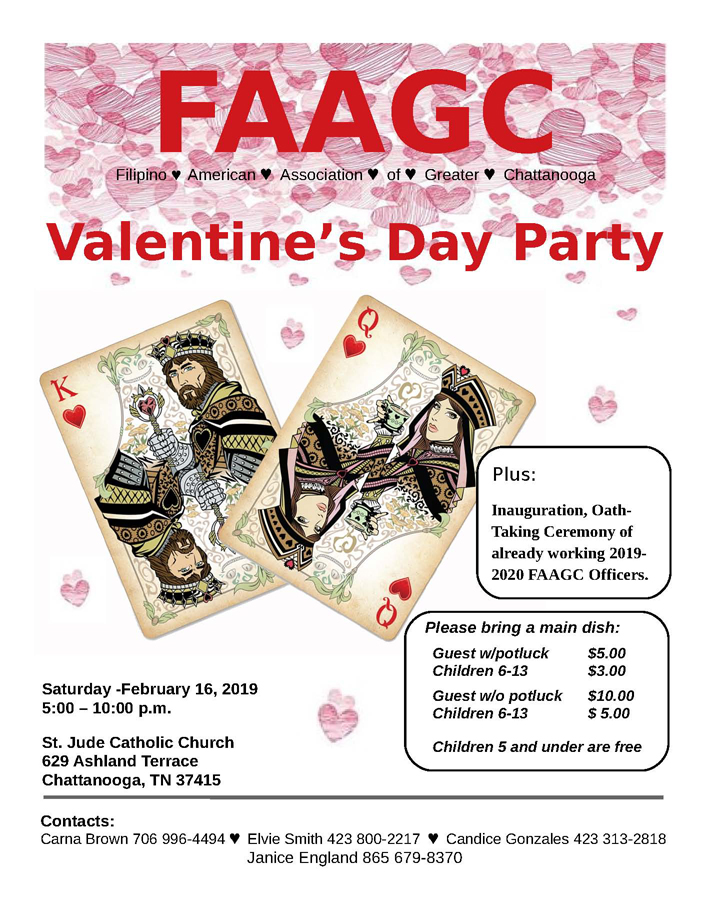 2017 Schedule of Events
2016 FAAGC Summer Culture Camp

Our Annual Summer Culture Camp is coming up in October. Register now for all the activities and fun weekend.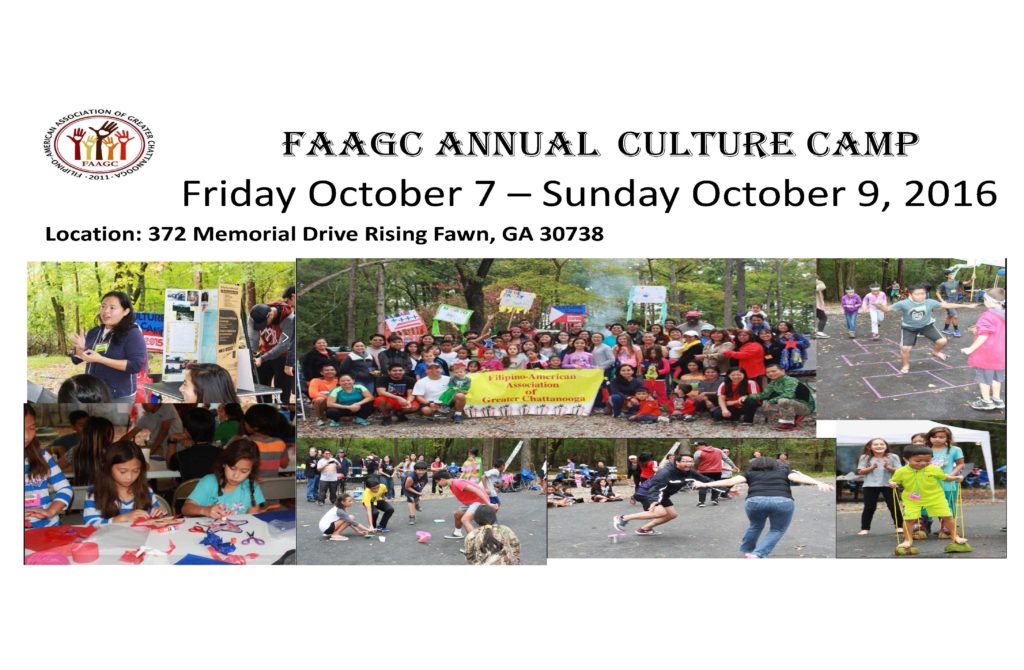 2016 CULTURE CAMP FLYER
2016 FAAGC Summer Culture Camp Registration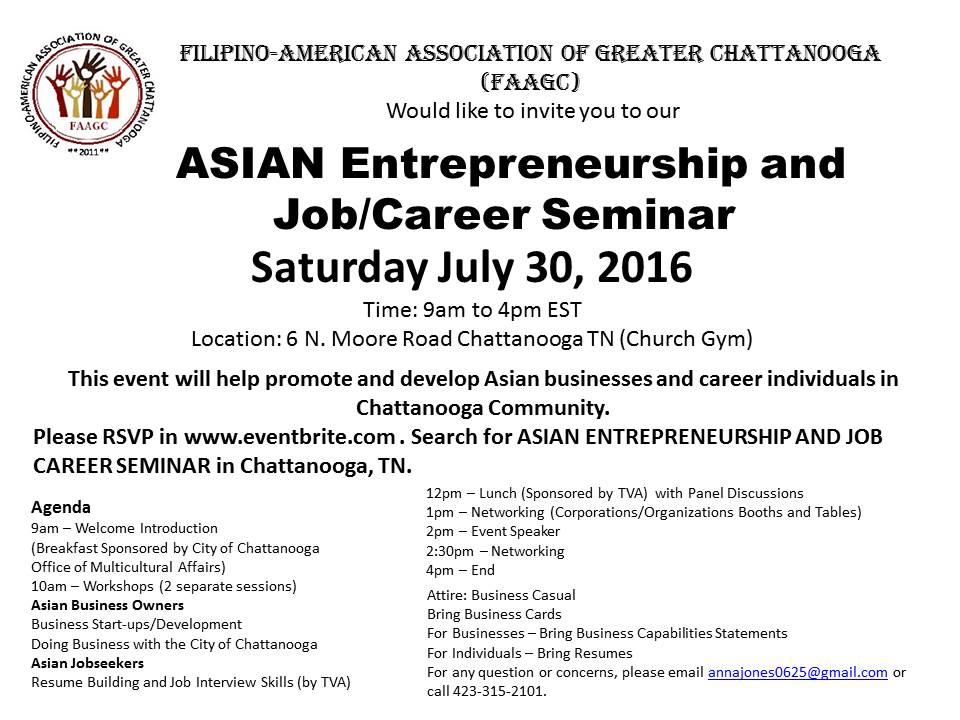 2016 Schedule of Events

Friday February 12, 2016 -Valentines Party
Saturday March 12, 2016 -Board Members Meeting
Saturday April 23, 2016 -General Membership Meeting
Saturday May 14, 2016 -FAAGC and ICBC Health and Safety Fair; Board Members Meeting
Saturday June 04, 2016-Board Members Meeting
Saturday June 11, 2016-CAR WASH Fundraising for CHA Police and Fire Department
Saturday June 18, 2016-Philippine Independence Day Celebration at St Jude Catholic Gym
Saturday June 2S, 2016 -12pm Tinikling Dance at Creative Discovery Museum
Saturday July 9, 2016-Board Members Meeting
Saturday July 30, 2016 -Entrepreneurships Seminar with Job/Career Opportunities
• Basketball Tournament
• General Membership Meeting
Sunday August 1, 2016-Summer Picnic at Harrison Bay
Saturday September 10, 2016-Annual Officers Meeting and nomination of Officers
Saturday September 24-25, 2016-Annual Hamilton County Fair Participation
Sunday October 2, 2016 -Annual CultureFest at First TN Pavilion (Chattanooga Market)
Friday October 1-Sunday October 9, 2016 -Annual FAAGC Culture Camp
Saturday October 22, 2016 -General Membership Meeting and Election of Officers
Saturday November 19, 2016-Board Meeting and Thanksgiving celebration
Saturday December 3, 2016-Christmas Party at Colonnade, /New Officers Inauguration
Note: Dates are subject to revisions/change
Date revised: 06/18/2016
FAAGC Membership
Our membership form is available for download and printing. Please save this form and print out. Fill out this application form completely, with all the required information, check whether or not you want your contact information in the FAAGC Directory and initial your choice. Mail the form along with your check, payable to FAAGC, to:
FAAGC
P.O.Box 24863
Chattanooga, TN 37422
The cost is only $5.00 per calendar year, and we would like to encourage everyone involved in the Filipino community (family/friends) to join. You can join any time, but please be aware that you cannot vote for next year's officers if you are not a member before the end of August ( Article VI – Suffrage of the Association Constitution, Section 1.2 Right to Vote states: "No member shall be eligible to vote unless he has been a member during the thirty (30) days immediately preceding an election.)
The elections are in October, please make sure you have joined or renewed your membership in plenty of time.
---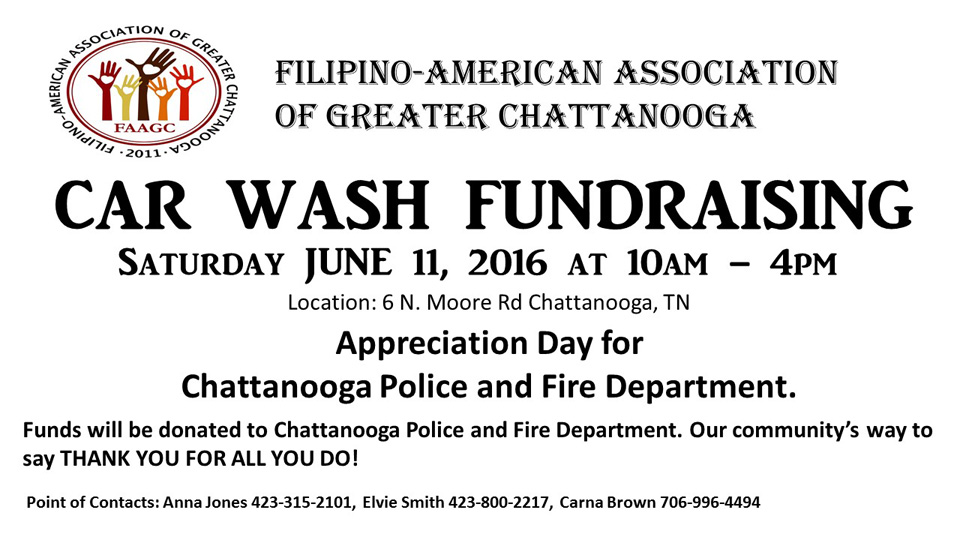 ---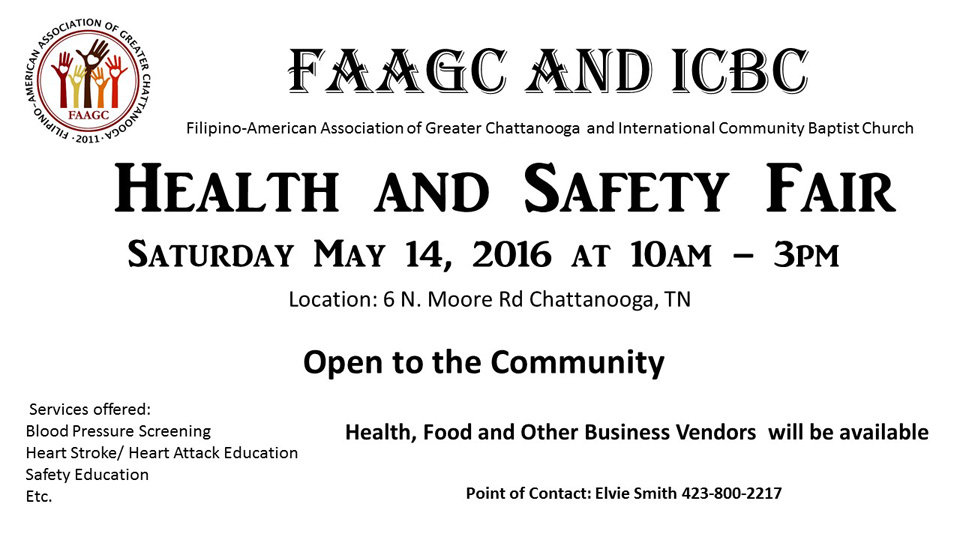 T-Shirts are ready!
We have the T-Shirts available for the Philippine Independence Day Celebration, with youth sizes to 3XL. A sample is on display at the Little Manila Oriental Store 1426 S. Moore Rd., East Ridge. A sign-up sheet for ordering and pricing is there so you can order to get your shirt before the celebration. These are 100% cotton, 6.1oz.
Sizes: Prices:
3-4 toddler (3 yrs) $8.00
Youth Small (6 yrs) "
Youth Medium (8-10 yrs) "
Youth Large (12 yrs) "
Small to XL $12.00
2XL-3XL $15.00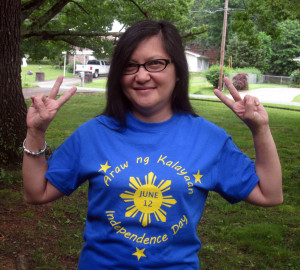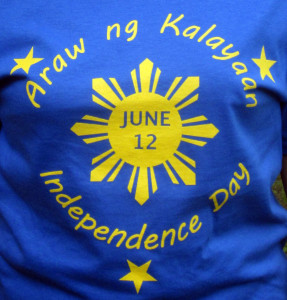 ---
The 117th Kalayaan Celebration
On Saturday, June 6, 2015, the Filipino-American Association of Greater Chattanooga will host a celebration, commemorating the Philippine Declaration of Independence from Spain on June 12, 1898. The festivities will be held in Seiner Hall, St. Jude Catholic Church, 930 Ashland Terrace, Chattanooga, TN, 37415.
The event will run from 11:00am until 4:00pm, with potluck food, dancing, cultural displays, raffles, t-shirts and more.
Guests w/food:
Adults – (14 yrs and above) – $5.00
Kids – (6-13 yrs) – $3.00
Kids – (5 yrs and below) – FREE
Guests w/o food:
Adults – (14 yrs and above) – $15.00
Kids – (6-13 yrs) – $10.00
Kids – (5 yrs and below) – FREE
---
The Filipino-American Association of Greater Chattanooga (FAAGC) was established in 2011 as a not-for-profit organization registered in the State of Tennessee, but is not a 501c(3) tax exempt organization.